Robo 2: Saving Eny
Dal punto di vista grafico l'engine di Robo 2 Saving Eny è abbastanza riuscito, sprite colorati e simpatiche animazioni del personaggio lo rendono piacevole senza comunque far gridare al miracolo. Un plauso va fatto alla completa localizzazione in italiano del titolo, sia nel corso del gioco che nell'approfondita guida presente nel menu iniziale tutti i dialoghi sono stati adattati e tradotti nella lingua di Dante.
more…
Ortel je jasný, hra je vskutku podařená a zápolit s její obtížností by mohl i leckterý premiant matematicko-fyzikální fakulty. Pro hráče her tohoto typu tedy jasná volba, ale rozhodně i ti z vás, kteří dávají přednost syrové akci, si mohou jejím hraním zpestřit dlouhé chvíle!
more…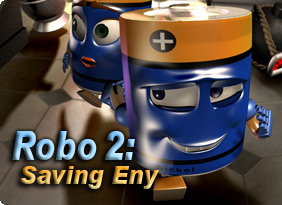 How to buy
Robo 2: Saving Eny
Anyone can be a game producer with Robo 2 !

Robo 2 is a sequel to a popular puzzle Robo played by millions of cellphone game addicts worldwide. The game is a witty collection of carefully crafted levels and game object, which have to be moved correctly to let Robo pass safely to the next level.

Robo has to save Eny, who is kept in a military compound, protected by lasers. In order to move, Robo has to block laser beams that guard all passageways or destroy laser cannons. This objective can be reached by moving stones to block laser beams, using bombs to explode laser cannons or (for the gaming Einsteins) making cannons destroy each other.

The game rules are very simple, but the game itself is not, because bombs and stones are very scarce. A new important addition to this new version is a Java-based level editor that can be used to create new levels. Game owners may download this levels right from inside the game.

Features