Governator 2
The graphics are very well-styled (including excellent animation and dynamic background), music and sounds won't get annoying (unless you die too often and your ears ache from the repeating of tragic theme), gameplay is both very active and requires tactics. Thus, overall appearance is very positive - the application uses all the resources to turn casual beat 'em up platform into the attractive game for everyone.
more…
"Governator 2" ist nicht die Fortsetzung des politischen Werdegangs von Arnold Schwarzenegger, sondern ein "Metal Slug" – Klon, den "Herocraft" zum wiederholten Male auf die Handy-Plattform bringt. Aber Bezeichnung hin oder her – ist der 2D-Plattform-Shooter denn wenigstens spaßig?
more…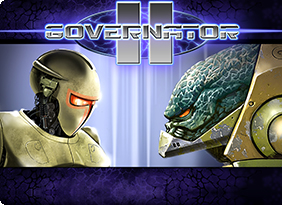 How to buy
Governator 2
He walked through the fire, dodging ballistic missiles and parring anti-mechanized shells by his forehead. He bit through the barbed wire, swam across the napalm rivers and got over the streets only on the red signals of traffic lights. And even the Death was afraid of him... An ideal demolition demon, a cybernetic perfect one and just a regular guy – Governator once again stepped in the life and the work of honest terrorists, peace-loving maniacs, upright extremists and other nice members of the world of madmen and psyhochronicks. In his stylish manner he transforms populous training camps into child's sand-boxes and underground military bases into deserted oases of the democracy. And there is no any power in our world that can stop him. He isn't a hero. He is simply discharging his duties.
Features
The vivid graphics of high quality

The dynamic sound

A lot of different locations full of blood lusting psychos

A large arsenal of weapon

Tense game play

A horrible final boss

Real action atmosphere