Black Shark 2: Siberia
Vyznavači akčních her zbystřete svůj zrak. Přichází mezi nás již druhé pokračování BlackShark. Tentokrát se proletíme mrazivou Sibiří a opět zachráníme lidstvo před vypuštěním jaderné bomby. Hurá na bolševiky.
more…
Enjoy amusing winter graphics operating a modern battle helicopter.
more…
Questo Black Shark 2: Siberia è nello specifico uno sparatutto a scorrimento orizzontale dalla grafica decisamente accattivante in pieno stile 16-bit amighista che vi vede tornare alla guida del fumettoso elicottero da guerra battezzato 'squalo nero' dai i nostri simpatici programmatori.
more…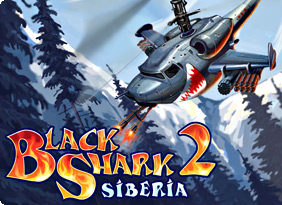 How to buy
Black Shark 2: Siberia
Terrorists are also people, and they also like skiing resorts during quiet snowy winters…
Black Shark will face eternal ice, hundreds of units of well-trained enemy infantry and engines, one hundred thousand cannons and bombs, the invulnerable supersonic fighter "Su-27" and the atomic submarine "Red October", the Christmas atmosphere and holiday discounts offer by the armor store, and also a special guest – Santa Claus on reindeers! Ho ho ho!

Instructions:
"Kill them all" - has to become the main principle for you. Move Black Shark in any direction you wish, you needn't care about the laws of gravity. Pick up all the objects you can and don't forget about shopping, because it is possible to buy many different and dreadful playthings there! Remember that nuclear missiles are your major targets. But also take care of all other rivals in the sky, on the ground and under it. Escape the storm of fire and try to survive.

Weapon:
Double machine-gun;
Diagonal double machine-gun;
Armour-piercing missiles;
Self-guided missiles;
Twofold fuel jerry cans;
Twofold supply of bombs;
Armour (three kinds);
Super bomb ( it destroys all units on the display).

Level bonuses:
Fuel - fuel supplement.
Bombs - bombs supplement.
Enemies:
1. Tank. Heavy slow unit with the large calibre machine-gun.
2. Jeep. Fast unit with smart weapon.
3. Grenadier. Attack by missiles.
4. Sub-machine gunner. Quick moving infantryman.
5. Bunker. Small but dangerous units run out from it.
6. Fighter. The most perilous rival.
7. Cannon. Powerfully but fixed enemy.
8. Ground-air missile. Attack when you come close.
9. Submarine. Hide under water, attack by self-guided missiles.
10. Mobile rocket launcher. Its shots are fatal for black shark.

Trailer
Features
Amusing winter graphics

Operated modern battle helicopter

The variety of enemies, including fighter and submarine

Lots of weapon and armour types make you helicopter the killing machine