Arcade Park vol. 2
Dobře se vlastně hrají všechny kousky ze zmíněného trojlístku. Každý je založen na trochu jiné, i když vždy jednoduché a fungující myšlence a na poměry podobných arkádových sbírek jsou i celkem hezky graficky zpracovány. Nečekejte od nich hlubokou myšlenku, ale rychlou a příjemnou zábavu. Arcade Park 2 je zkrátka hodně dobrou odreagovávačkou, zvláště s ohledem na to, že se prodává za neprémiovou cenu 50 Kč. A to se vyplatí.
more…
Dnes pojmu svou recenzi dosti netradičně, protože budu nucen jí rozdělit na tři části. Ptáte se proč? To je jednoduché, dnes vám totiž přinášíme 3 v 1! Ne, žádné čokoládové vejce s nějakým umělohmotným harampádím uvnitř se konat nebude, ale šikulové z Herocraftu si pro vás nachystali hned tři javové pecky za cenu jedné! Nevěříte?
more…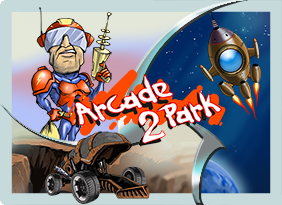 How to buy
Arcade Park vol. 2
The Arcade Park collection is meant to revive the legendary games of the past, popular with millions of users. The second part includes Digger, Galaxy Invaders and Gold Hunter.

The legendary Gold Hunter has squandered all his wealth on the stock market and now has to descend into gold-miners' vaults again. Your task is to collect all the gold and not be caught by the sentinels, who are right behind you. There might be lots of sentinels but you have a great advantage over them: the BFT-5000, which can burn through the stone floor beneath you! If handled well, The bft-5000 can help you get rid of the sentinels and find carefully hidden gold reserves.

Galaxy Invaders. Evil aliens have tried to invade our beautiful planet time and time again. It's time to retaliate! Only five fighters from the fifth andorran fleet have been able to break through to the doom star. Now there are only a few enemy outposts between you and the citadel of evil. Let's put an end to the thousand-year war!

It's time for the Digger to put on his miner's helmet again and start digging! Your task is to collect all the diamonds on each level without falling into the paws of the SENTINELS – the hobbins... The hobbins can only walk along the paths you dig, but, after a while, the hobbins turn into evil nobbins that can eat through everything in their way! If the worst comes to the worst, use the portable annihilator in your helmet. But remember, it takes a long time to recharge.
Features
A triplet of excellent games in one collection

Nice animation and graphics

Different game modes

A lot of bonuses, types of enemies and unexpected surprises in all the games

A hall of fame and records where your name will probably be listed soon